All-on-4 is a teeth replacement option for patients that have lost multiple or most of their natural teeth. These implant-supported dentures use only four implants to support the entire set of replacement teeth. This procedure is very effective for one who has undergone bone atrophy and won't acquire traditional dentures due to some reason.  
Procedure for Placing All-on-4 Implant-Supported Dentures
The first step is consultation where the dentist evaluates the health of the patient's teeth and gum through an oral examination. They will also discuss the initial treatment plan with their patients.
After this comes surgery. In this procedure, the dentist sedates the patient and begins extracting the remaining teeth of the patient. Then, an incision is made in the gums to place implants into the sockets. Lastly, an abutment is attached to the rod appropriately.
The last step is the healing of the implant site. During this process, the patient can experience several after-effects and is asked to avoid specific food or activities.
Before vs After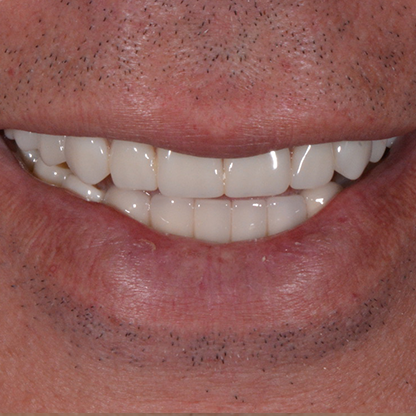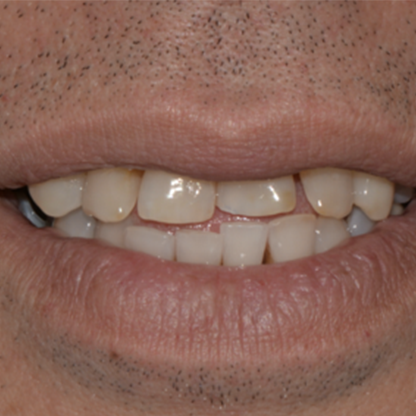 Benefits of All-On-4 Implant-Supported Dentures
The All-On-4 Dentures offers several advantages:
● Quick Procedure
The number of appointments needed for placing All-On-4 implant-supported dentures is less than for traditional dental implant procedures. This is because the implants are connected in a single visit and are completed within a few hours.
● Affordable
All-on-4 implant-supported dentures incur less cost for replacing the entire sets of teeth than other options.
● Easy Maintenance
All-On-4 implant-supported dentures can be maintained easily since they are not removable. Also, they preserve the jaw and enable good oral hygiene practice. You can take care of them as you do with your natural teeth. However, do not forget to go for a regular checkup or cleaning.
● Provide Immediate Results
As we mentioned, placing All-on-4 implant-supported dentures helps in replacing the entire set of teeth in one go, thereby providing the patients with immediate results.
● Eliminates the Need for Bone Graft
Unlike traditional implant surgery, patients do not need a bone graft for All-on-4 dentures. It is because the procedure fixes four implants at different points where the jaw is dense. This means that they are not restricted to a specific location. 
Hence, if you have experienced significant tooth loss, All-on-4 dentures are the best option for you.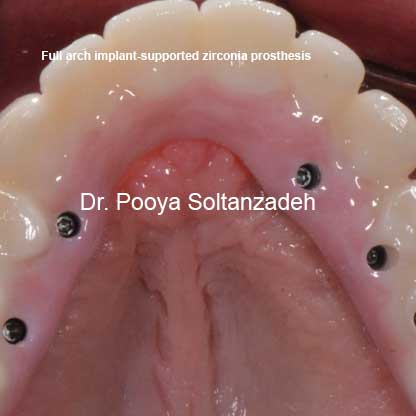 Full arch implant-supported zirconia prosthesis
Full arch implant-supported teeth for both upper and lower jaws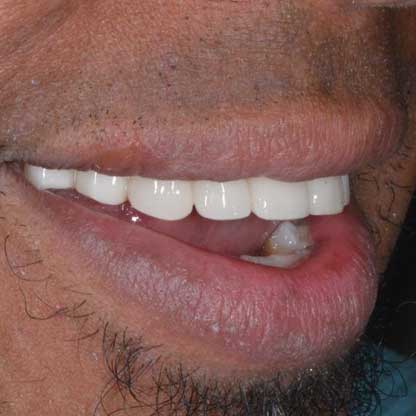 Full arch implant-supported zirconia prosthesis
What Are Hybrid Prosthesis?
A hybrid prosthesis is a type of fixed dental prosthesis that combines a dental implant with a crown, bridge, or dentures. They are also known as "partial implants." Like a fixed bridge, a hybrid prosthesis uses adjacent teeth as anchors for one or more replacement teeth. Unlike a fixed bridge, the prosthetic is only anchored to healthy teeth on one side. This can preserve natural tooth structures that might be lost with the placement of a bridge. Moreover, it creates a sort of "scaffold" upon which surrounding bone can grow and nourish the surrounding teeth. 
A hybrid prosthesis also replaces missing teeth quickly, simply, and effectively. It is typically possible to place this type of restoration without numbing or anesthesia because the teeth are only minimally altered during the process. Patients will also enjoy shorter treatment times, less discomfort, and fewer complications compared to traditional bridges and crowns. Generally, patients choose this option if they require a full arch restoration and have missing teeth that are next to each other. 
Pooya Soltanzadeh, DDS, MS, DABP, and his expert team of dental assistants offer you the best teeth replacement procedures including All-on-4 dentures. For more details, callDentist Anaheim Hills CA, at  (714) 974-0949, book online, or visit us at 8101 E Kaiser Blvd Suite 120, Anaheim Hills, CA 92808.
@media(max-width:767px) { .contentwrap .smile_title { margin-bottom: 40px !important; } }