A full mouth rehabilitation is comprehensive dental care that covers a number of different procedures, depending on each individual patient's needs. The treatment can be done to correct imperfections in an individual's smile, restore function to areas of the teeth that have become compromised, or a combination of both. Patients with excessive wear and tear on their teeth from grinding and clenching may need restorative work in addition to cosmetic treatments to improve the appearance and function of their teeth.
Before vs After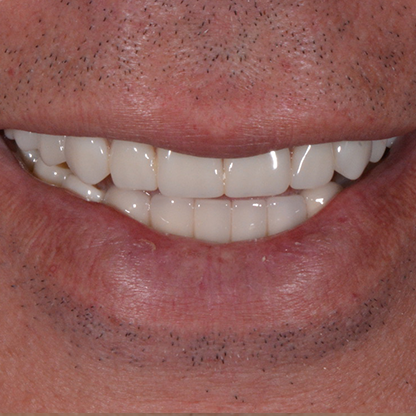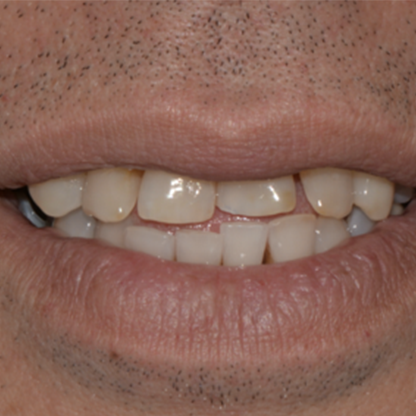 Before vs After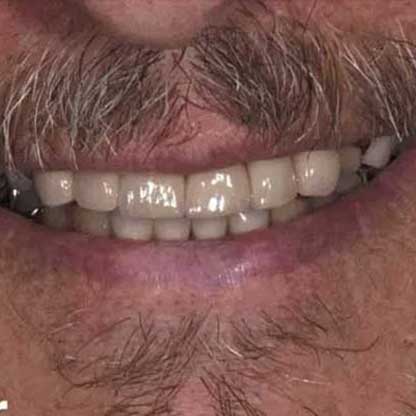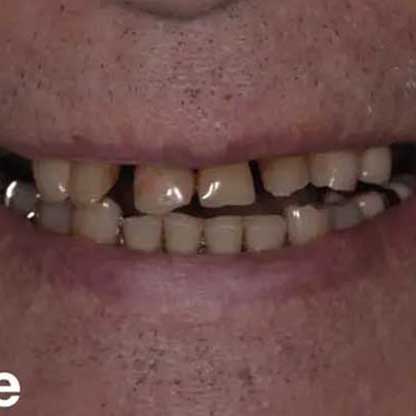 Full mouth reconstruction with crowns and partial denture
Types of Full Mouth Rehabilitation Treatments
Some common treatments for full mouth rehabilitation include:
Removable Implant-Supported Dentures in Anaheim Hills, CA: A removable implant-supported denture is a set of dentures that snap onto the implants placed in the jaw. These dentures can be removed and cleaned daily, just like removable dentures. Unlike regular dentures, however, implant-supported dentures won't slip or shift in your mouth as you chew and speak. They will also support your jawbone to prevent it from shrinking away over time. This means you can wear these dentures for long periods of time without feeling pain or discomfort.
Removable Implant-Supported Bridges in Anaheim Hills, CA: A removable implant-supported bridge is a type of partial denture that attaches to dental implants rather than resting directly on the gums. The bridge is supported by implants but not permanently fixed to them. The bridge can be removed by the patient for cleaning or during sleep. They are typically held in place with clips and wires; however, some patients choose to have them permanently attached with screws for maximum stability. The benefit of a removable implant-supported bridge is that it provides patients with a temporary option to replace missing teeth while the jawbone heals from the surgical procedure used to place the implant posts. Once the healing process is complete and the implants are fused to the jawbone, a permanent bridge can be fabricated and attached to the implants. This gives patients the ability to replace multiple teeth without undergoing two separate procedures.
Fixed Implant-Supported Dentures in Anaheim Hills, CA: One of the popular options for missing teeth is a type of denture called fixed implant-supported dentures. These dentures are secured to dental implants or artificial tooth roots. The dentures snap onto the implants, providing a secure fit. These fixed implant-supported dentures are more stable than traditional dentures. This is because the implants are placed in the jawbone, which holds the dentures in place securely. The implants stimulate the jawbone, allowing it to retain its strength and density. These dentures are very comfortable and easy to care for.
Fixed Implant-Supported Bridges in Anaheim Hills, CA: A fixed implant-supported bridge is a permanent restoration that can be used to replace one to three adjacent teeth that are missing in the same arch of the mouth. An implant-supported bridge is commonly recommended when a patient has a healthy bone structure in the jaw to support the placement of dental implants but not enough to make traditional dentures a viable option. These bridges are permanently secured to implants that have been surgically placed in the mouth and may require a minor bone grafting procedure to prepare the site where the abutments will be placed.
Restore your smile with Pooya Soltanzadeh, DDS, MS, DABP, and his team of dental experts at Anaheim Hills, CA. For more details, call Dentist Anaheim Hills at (714) 974-0949, book online, or visit us at 8101 E Kaiser Blvd Suite 120, Anaheim Hills, CA 92808.