Lower lip augmentation with laser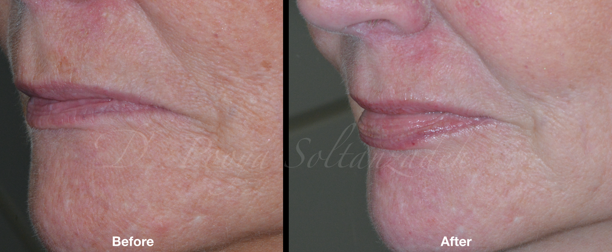 Lower lip augmentation with laser

Upper lip augmentation with laser
LipLase
LipLase is a new, non-invasive lip augmentation treatment using Fotona SMOOTH® modality Er: YAG that can help you achieve fuller, plumper lips. Unlike injectables like lip fillers, LipLase uses radiofrequency energy to heat and contract the collagen in your lips for a natural, plumper look. Fotona SMOOTH® modality Er: YAG delivers an instantaneous response that patients will notice. 
What Does LipLase Do?
LipLase laser treatment employs heat to stimulate the synthesis of superficial and deep dermal collagen, giving the lips a fuller, firmer contour. This procedure also tightens the skin surrounding the lips. 
In addition, this procedure may be used in conjunction with other perioral treatments and improvements to define and enhance the contour, volumize, and retexturize lips.
LipLase Benefits
Your lips are delicate, so it's important that you only put your best face forward for them. When your lips start thinning and losing their fullness, that can affect the way you feel about yourself and the way others perceive you. Instead of undergoing invasive surgery to get fuller lips, you can opt for non-invasive lip-plumping treatments like LipLase.
The benefits offered by LipLase include the following:
Results in plumped, fuller, and smoother lips
Works by boosting collagen remodeling
Initiates synthesis of new collagen
Non-invasive procedure without any needles and downtime
Who Can Benefit From LipLase?
LipLase is best for those who are needle-phobic and wish to completely avoid injectable fillers. However, it can also be used by people who already have fillers and want to add a little more volume to their lips without needing more needles. The procedure can enhance the texture of the lip borders and lines, which are not usually addressed by dermal fillers. Besides, LipLase can be used to balance out inherent asymmetry of the lips or asymmetry created by past lip enhancement procedures. 
If you are interested in undergoing laser treatment to improve the appearance of your skin, schedule a consultation at our practice today! We would be happy to meet with you one-on-one to discuss your options and help you decide which treatment options would be best for you. For more details, call Dentist Anaheim Hills at (714) 974-0949, book online, or visit us at 8101 E Kaiser Blvd Suite 120, Anaheim Hills, CA 92808.